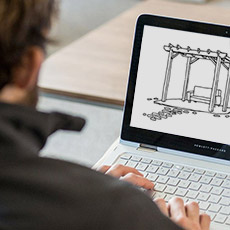 1. INITIAL CONCEPT
All our work begins with a conversation with you, the client. We get to know where your tastes lie, what you expect from the finished result and what your budget and timescales are.

We will then produce a quotation from your plans, on acceptance of which we will arrange a site visit to discuss the project in more detail, explaining each process of the build.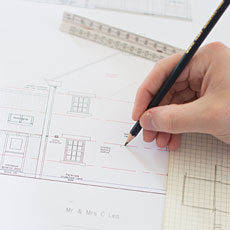 2. TAILORED DESIGN
At this stage we would ask for a deposit payment of 25% to secure your project a place in our busy workshop schedule.

We would then produce an accurate workshop drawing for our skilled carpenters to work from.

For larger structures, we'll provide initial designs and work alongside your architect – or recommend some that we know who are familiar with oak frame buildings – to come up with a final technical blueprint.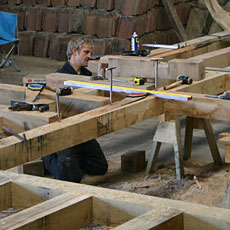 3. BUILD
Once the design is finalised, we hand-craft every element of the frame in our large framing yard, fitting everything together perfectly before we bring it to site.

You are welcome to visit our workshop and observe the work in progress. Our carpenters are here to discuss with you any questions or concerns. Our workshop is open between 7.30am and 5pm, Monday to Friday.

At this stage a further payment is due.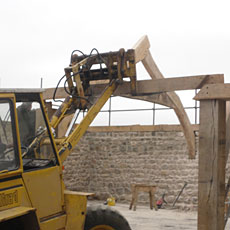 4. INSTALLATION
When the frame is ready for delivery and erection on site, we would then request the third stage payment.

The erection of the building would usually be rapid as we make all the component parts in our workshop. We can supply and install the frame alone, or project-manage the whole structure including all the interior work, and the glazing and fitting of doors and windows. Our frames can sit within existing buildings or provide the main structure, where they can be finished with brick or timber skins or exposed external timbers.